Want to increase your blog traffic or get free leads or make some extra money building downline?  Then LeadsLeap.com would be your online marketing solution for your business or to make some money for home-based work at home workers, as well get traffic to your blog using credits you have earned through visiting members advertisement or paying advertise fees you want to promote on their marketplace.
In this review, you will find about Leadsleap and how does this program works and more. So lets read…
LeadsLeap Review
LeadsLeap.com is an online marketing and business solutions for both marketers and bloggers who wants to improve their online business and get new leads as well making some money as a free or upgraded member.
How does it works?
LeadsLeap.com has more than 80 thousand marketers and bloggers who use their well-acclaimed traffic system to improve their business. They offers revenue share, advertising and lead generation system for both marketers and blogger who used to get free traffic and leads.
Lead sharing system allows members to make money in three different ways without purchasing anything. Promote your business completely free with LeadsLeap network of more than 4 thousand websites. Then, build your 10 levels downlines for free leads that will grow your traffic potentially. Finally, use their house tools to earn a competitive edge.
How to make money from LeadsLeap network?
Login to your account and check 'Make Money' section from your account dashboard. Visit members ads and upline message for certain period of time from 'Surf Ads' of 'Make Money' section to earn credits which can be converted into cash from 'Encash Credits' of Make Money section. Put 'LeadsLeap Widget'  code to your blog to earn credits. Each 50 credits will gives you 10 cent which is recommended. You need at least 50 credits to encash for main balance which can be cash out through Payza or PayPal.
How much revenue share they offers?
LeadsLeap.com shares up to 90% of their revenue with all qualified members for visiting members ads & upline message from their revenue sharing system. They pays daily, weekly & monthly to members who send traffic to the ads of their network and earn affiliate commissions for people whose referrals upgrade.
How do I get free traffic and leads?
You can simply promote your business or affiliate links to get leads using credits you have earned from their network.
As a free member, you can promote business or links through 'My Credit Ads' from 'Post Ads' section of your account dashboard.
As a upgraded member, you have benefit of free referrals through spillover system and can promote your business or affiliate links through 'My Pro Ads' of 'Post Ads' section. Upgraded member need at least 19 credits to promote business or advertise their products on LeadsLeap network.
You will have awesome tools provided for free in LeadsLeap network that is The Real Tracker, the popup creator, the list builder script.
LeadsLeap is definitively the place to go if you're serious about building an IM business. You will find all the knowledge you need to succeed!
Sign up here to start getting free traffic and making money with LeadsLeap.com now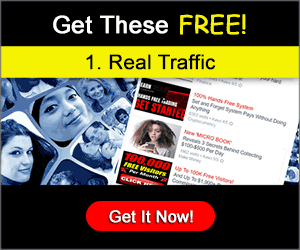 I am Sohel, by profession a freelancer and passionate blogger, influencer, online marketer and YouTuber. I loved to write, share ideas and experience, research, honest product reviews, social media marketing and helping others. Sharing is caring…